Each month, Realytics showcases one of the members of its (marvelous) team. This month, we're very happy to introduce you to Alexandra, a multilingual Relationship Manager coming straight from America, who never says no to a party, but, if she did, could tell you in 5 languages.
Alexandra, who are you?

I am Alexandra, a Strategic Relationship Manager taking care of our International clients. I've been working at Realytics for almost a year and a half now!
Describe yourself, in 1 gif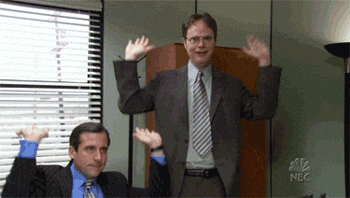 What is it like being an Relationship Manager at Realytics?
You will wear many hats in this job! You must be flexible, open-minded, and always ready to manage an urgent or last-minute client/partner need. A good sense of humor is helpful too! 😊
What is the first thing you do when you get to the office?
I say hello to everyone, pour myself a big cup of coffee, and sync with my partner Klaus on our goals for the day.
What are your daily main challenges?
- Accompany our international strategic partners and clients in optimising the efficiency of their TV campaigns.
- Envision new scenarios where they can best align their media planning strategies with their commercial objectives.
- Manage the day-to-day account management activities, and provide valuable services like product training, best practice sharing, campaign results presentations, etc.
What kind of music do you listen to when working?
I'm from Chicago, so I love house music. It helps keep me in a positive and focused mood the entire day! 😊
Something that never leaves your desk
Post-its! I'm obsessed.
What do you love about Realytics (in 3 words)
Dynamic. Fun. Ambitious.
Your favorite TV show
Outlander!
Your favorite TV ad
I love the Coca-Cola polar bear ads at Christmas. They always bring a smile to my face!
A word for your CEO
Next seminar in Dubai? 😉
Pass it to one colleague!
Now, I pass the mic to Charles!