What is it?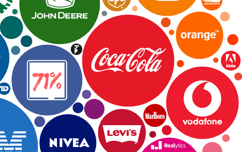 It is the percentage of consumers thinking that advertisers are better communicating with them than before, but still could do better.
What does Realytics think about it?
This comes from the latest study Kantar Media, Dimension 2018, which explores the main media planning and buying challenges advertisers have to face. Why? Last year, they were 73% consumers thinking advertisers were better communicating with them, but it is not this 2% drop that makes us think they can do better.
It is the fact that consumers are tired of seeing the same ads over and over online, or seeing ads for products they've already bought. What is it to be done to improve this experience, and avoid the excessive use of ad blockers?
Firstly, advertisers can think of improving the user experience by better targeting them and offering them personalized content.
Secondly, and most importantly, they could think of advertising on TV. TV is the most powerful media of the world. As we already said, there are very few medias that can touch such a big audience in such little time, while still offering some quality content that can reach a huge public audience.
Thanks to TV, advertisers can actually make sure their TV campaigns are reaching the right audience at the right moment. TV analytics tools allow them to monitor the impact of their TV ad on digital channels, right after the spot was aired or even weeks later.
Ad Performance helps advertisers to really understand the impact of TV in real-time by measuring the reaction of their digital audience minutes after the diffusion of a TV spot. More interested in knowing how your TV ads can make your brand shine? Brand Effect tells advertisers what the global impact of their TV ad was, by showing them who their TV ad reached and making them define a client profile (age, gender, area of interest, geolocation and search activity on search engines).
Interested?