On Tuesday 6 June 2023, Realytics' Bee won a 5th trophy: the Cas d'Or du Digital Gold, in the TV & Digital Measurement & Analysis category.

An award in an emblematic category for Realytics, the leader in TV/digital convergence, which is leading the way in full video measurement with Bee.
The contribution of

a

addressable TV campaign to a traditional linear TV campaign



In the use case presented, Peugeot wanted to measure the online effectiveness of a addressable TV sur-pressure on a specific target with a dedicated creative.

Within the scope of the Bouygues Telecom Bee opted-in Set-Top-boxes, Realytics' deterministic measurement quantified the online engagement of the two traditional linear TV campaigns, each with a specific packshot highlighting either the price or the website, as well as the addressable TV campaign with a specific packshot highlighting home recharging solutions.

Online engagement impact following an addressable TV campaign reinforcement

As the TV distribution channel being used across the campaign is new, so are the learnings for Peugeot : The online engagement generated by addressable TV provides Peugeot with new learnings. In the meantime, Peugeot experienced different drive to web reactivity depending on the packshots used in traditional linear TV.

The addressable TV sur-pressure on a specific target group generated massive engagement compared with the national linear TV campaign. This is valuable learning for future TV campaigns, as we highlighted at the #ROITV4 event organised by SPNTV and AF2M.
The SNPTV ('Syndicat National de la Publicité Télévisée') is a French association, regrouping television broadcasters, responsible for the television advertisement strategies in France.

The AF2M ('Association Française du Multimédia Mobile') is a French association, regrouping French Telcos and mobile operators distributing on their network IPTV services or OTT services for their subscribers.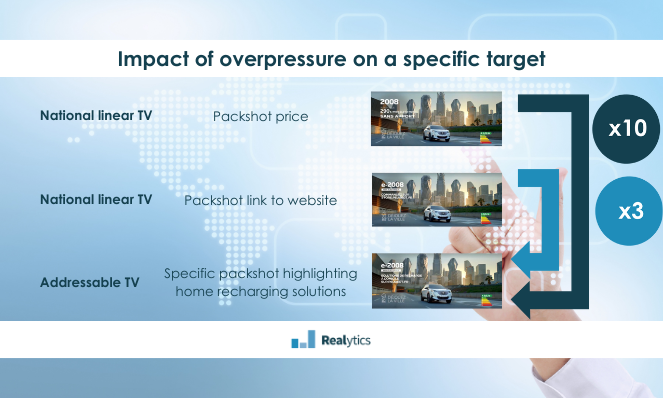 Measure and compare linear TV, addressable TV, BVOD and CTV
Bee proved the efficiency of such distribution channels combination. Bee is an exclusive and unique solution able to unifiy the measurement of linear TV, addressable TV, BVOD and CTV. 
But Bee may also provides answers to many of the questions that advertisers and agencies are asking:
What is the contribution of BVOD compared with a national linear campaign?

What is the incremental reach of a addressable TV campaign targeting small TV consumers?

How does each TV distribution channel contribute to target coverage?

How do addressable TV and BVOD engage?

How effective is addressable TV sur-pressure on a specific target?

Is it possible to observe the response of viewers for frequency caping?
Discover the answers in the BeeBook :


The list of questions is not exhaustive, so what question will you be asking Bee?