How effective addressable TV is? Is addressable TV Drive-to-Web? Does addressable TV improve online engagement? Find out here.

Where do you get your data from?
A Bee study (Box Exposition tv et Engagement online) commissioned by the SNPTV, for its webinar #ROITV4, co-organised with AF2M.
The SNPTV ('Syndicat National de la Publicité Télévisée') is a French association, regrouping television broadcasters, responsible for the television advertisement strategies in France.
The AF2M ('Association Française du Multimédia Mobile') is a French association, regrouping French Telcos and mobile operators distributing on their network IPTV services or OTT services for their subscribers.
The aim of this study was to measure engagement on the website of an addressable TV sur-pressure. The study was carried out for the advertiser Peugeot and the car model e-2008. The addressable TV campaign, which complemented a traditional linear campaign, took place in September 2022 and targeted single family TV households. This segment was targeted by a dedicated creative with a specific packshot.
Deterministic measurement of traditional linear and addressable TV campaigns



Based on an analysis of the exposure of the French telco Bouygues Telecom subscriber households to TV campaigns, Realytics' Bee makes it possible to measure the audience for each TV campaign, whether it is run on traditional linear TV, addressable TV or BVOD.

In addition, the tagging plan deployed on the Peugeot website makes it possible to determine whether exposed TV households to the campaign engage with the website. Bee is thus able to track the online behaviour of exposed TV households.




Impact of advertising sur-pressure on addressable TV
The addressable TV boost on the target group defined by Peugeot generated an online engagement 9 times higher than (i.e. +800%) the national linear campaign.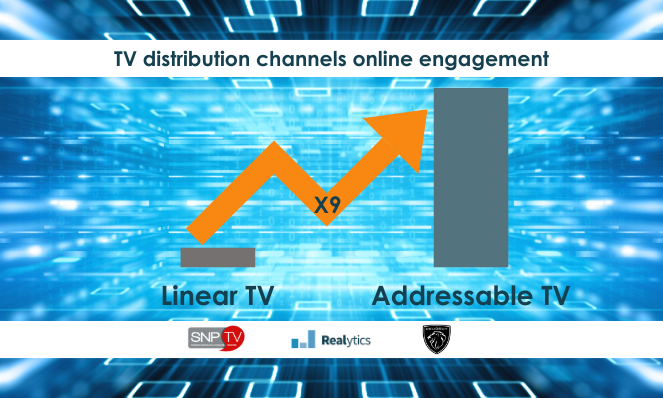 Bee confirmed the effectiveness of the extra pressure decided by the advertiser, by means of a deterministic quantified measurement.

But that's not all. The extra pressure resulted in an online engagement 6 times higher (i.e. +500%) on the deeper pages dedicated to the Peugeot e-2008, the model highlighted during the TV broadcast. The population targeted by the addressable TV campaign with dedicated copy engaged higher both in quantity and quality with the Peugeot website.

These results are just one of the many possibilities Bee offers. To find out how Bee can be adapted to your needs, simply contact us.